Wednesday, November 8, 2017 / by Angela Hunter
7 Filthy Spots Everyone Sees But You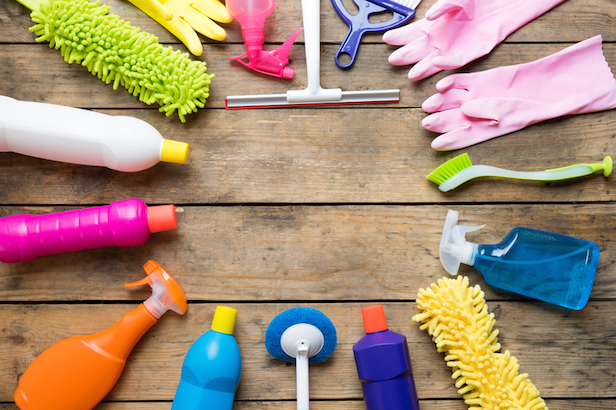 Admit it: It's easy to get a little judgy inside someone else's home. We notice the dirty floors, cobwebs lingering in the corners, and dust on the overhead fan. But guess what? You've probably got some gunky areas that your friends notice, but you don't. (Sad music.)
#1 Light Fixtures
Look up. Your light fixtures are covered with dust and dead bugs.
Take them down, spritz with a cleaning product, and wipe clean. Use a solution of five parts water and one part cleaning product (a non-toxic odorless all-purpose product).
#2 Toilet Body
You probably clean your tank often, but what about all the bits and pieces that surround the tank, and the floor itself?
For porcelain thrones, I recommend a Soft Scrub with bleach to clean the minuscule cracks that form in the glaze over time. For any non-porcelain parts, vinegar will do. Start with the top and spray all the way around — the lid, under the lid, the seat, down to and on the surrounding floor, and even the walls behind the toilet.
#3 Dust Collectors
The TV mount, picture frames, computer printer, keyboards, and remotes are great dust collectors. Use a microfiber rag that you've sprayed lightly with vinegar to remove it all. Vinegar isn't electrostatically charged, so dust will take longer to return to that spot.
#4 Drawer Organizers
Crumbs and dirt love those little compartments. Suck them up with a handy vac, or spray with vinegar and wipe away with a rag.
Don't wait until the crumbs are three inches deep and have taken root in the drawer. If that's the case, break it down and clean with a cleaning solution.
#5 Ice Maker
Old ice absorbs food odors, so it's a good idea to clean and sanitize the whole system. Stop the machine from making ice, pull out the ice bin, and dump the ice.
Wash the bin and ice maker with vinegar, or put the bin in the dishwasher if your manual says it's safe to do so. Wipe the ice maker with a dry rag to remove moisture.
#6 Appliance Handles
You touch them so many times every day. And you never think about it. Spray them all down with cleaning solution and then wipe.
#7 Glass and Mirrors
Wash dull, smudged glass and mirrors with straight vinegar. Be aware that if you've been using commercial cleaners it may take several cleanings with vinegar to get all the wax off the glass.
---