Tuesday, April 3, 2018 / by Angela Hunter
Spring is finally here which means it is time to get outside and take advantage of the sunny-and-75 weather! April is a great month to do new things and go new places so we over here at Sells Strong came up with a list to help you plan your upcoming weekends. The events going on in Atlanta this month are all about live music, cultural arts, family fun, and of course all things outdoors.

Atlanta Film Festival, April 13 – April 22
As one of the largest and olden running film festivals in the United States dating back to 1976, The Atlanta Film Festival brings a crowd of over 25,000 film enthusiasts, movie fans, and people involved in the film industry to the great city of Atlanta. Attendees have the opportunity to view over 150 films over seven days, showcasing films from nearly every genre imaginable – including ones you may not even know exist!
Film viewing is not the only reason to attend though, the festival is also a great networking experience giving you the chance to meet a variety of industry professionals during the various events taking place including award ceremonies and workshops. Past honorees of the IMAGE Film Award Gala include Cicely Tyson, Spike Lee, Burt Reynolds, Ossie Davis and Ruby Dee!
The event is run by Turner Broadcasting and is non profit. Tickets can and further information can be found at:
http://atlantafilmfestival.com/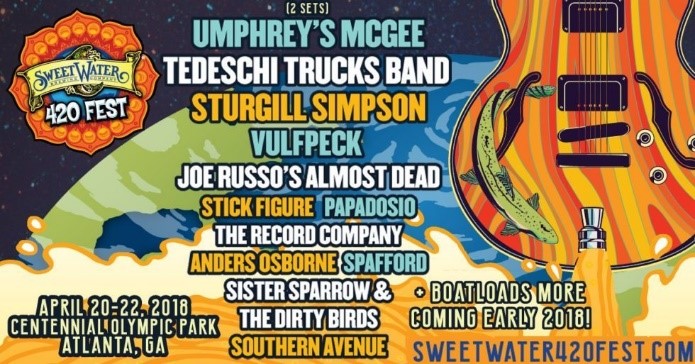 Sweetwater 420 Festival, April 20 - 22

Love Music? Love Atlanta? Love Food?

If you answered yes to any of those questions then you should probably start looking into getting your group together for one of Atlanta's biggest music festivals of the year! Featuring a line up full of quality musicians there is sure to be something for everyone. For fourteen years people of all ages have been coming to experience the fun and music over at Centennial Olympic Park, which hosts a dynamic mix of live music, comedy, art, food, and much more.

To add to the fun the festival and brewery also host a 5k race on April 21, 2018 at 8:30AM, and don't worry after years of running this they know what their loyal fans want: An ice cold beer to cool them off at the end. Gives new meaning to the term "Beer run" if you ask me! On top of the complimentary beverage your participation also gets you $5 off of your festival ticket!

http://www.sweetwater420fest.com/


Inman Park Festival, April 27 – 29

Head down to one of Atlanta's most iconic, scenic neighborhoods this April to experience the Inman Park Festival. The neighborhood dates back to the late 1800's and his home to many historic homes and parks. Featuring live music, kids activities, street parades, a Tour of Homes, and much more there truly is something for everyone.

The best part about this festival? It is FREE! Apart from the Tour of Homes you can get in and get out for a total of zero dollars to experience the fun. Head to the link below to find out more information on events, parking, and vendors!

http://www.inmanparkfestival.org/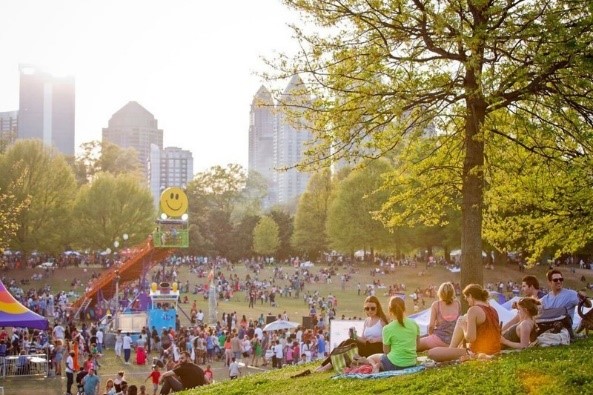 Atlanta Dogwood Festival, April 13 – 15

In celebration of Georgia's native dogwood trees, each year for the last 75 years the Atlanta Dogwood Festival is held. Located at Piedmont park, you can enjoy live music, tons of delicious hand picked food from all over the city, arts and crafts, plus many more family friendly activities.

Sculptors, painters, jewelers, and photographers are recognized for their artistic achievement over the course of the weekend. There is also an entire "Kids Village" that includes face painting, rock climbing, inflatables, and rides to keep everyone entertained no matter what age you are! For the animal lovers there is also the U.S. Disc Dog Southern Nationals, which is a world class frisbee dog competition where you can see some of the most talented four legged athletes around!

This is also another FREE event on our list, so head on over to Piedmont park and take advantage of the fun. For information you can visit the website linked below:

Atlanta Grilled Cheese Festival, April 14 – 15




Calling all Atlanta foodies! Who doesn't have a soft spot in their heart for a good grilled cheese?

How would you like two whole days to celebrate your favorite food group? Because yes, cheese is its own food group. Well read closely because you are going to want to mark this one on your calender.

Restaurants and chefs from all around Atlanta and the surrounding areas are coming together to showcase their very best grilled cheese sandwich. Other than just sampling the dozens of gooey, cheesy delicacies you can also enjoy some frosty beers, live music, and numerous activities and contests in between bites.

Tickets Include admission to the event, (3) complimentary Grilled Cheese Samples, plus live music, access to our Adult Game Zone and Beer Garden. So come on out and be a part of the vote for Atlanta's best Grilled Cheese! Follow the link below to order your ticker and get additional information.

https://www.atlantagrilledcheese.com/



Big Shanty Festival, April 21 – 22

The 41

st

annual Big Shanty Festival will be happening in Downtown Kennesaw this month, offering fantastic entertainment for the whole family! Combining the rich heritage of Kennesaw with the Civil War Era it offers an extensive line up of activities over the course of the weekend.

Over 70,000 attendees get to enjoy more than 250 booths filled with arts and crafts, food, merchants and entertainment. There will also be two stages for entertaining! Kicking off with a parade that travels through main street and downtown Kennesaw this even will provide fun for the whole family. Head to the website below for more information.

http://www.kennesaw.com/big-shanty-festival/






Atlanta Spring Wine Festival, April 14
Where are my fellow wine enthusiasts? Here is the event for you! This April come on out to Historic Old Fourth Ward Park to sample the extensive collection of over 50+ wines and beers that will be there. You also get an awesome unbreakable acrylic souvenir tasting glass to remember the day with!
Ticket information can be found at the link provided. This is a 21 and up event and free water will be available throughout the venue. So come on out, drink up, and get ready to dance with the DJ because this is definitely not an event you want to miss!
https://www.xorbia.com/events/atlantabeerfestivals/atlanta-spring-wine-festival/
Rhythm & Brews, April 7
For the third year in a row Heritage Sandy Springs presents Rhythm & Brews: A celebration of local bands and local beer. Relax this weekend and listen to the wide variety of live music while lounging in the spring sunshine. Featuring local breweries such as Red Hare, Reformation, Jekyll, and more you can sip on adult beverages while checking out the artists and vendors that will be there. Bring a group and get competitive playing Giant Jenga and cornhole or eat some of the specialty fare from local food trucks.

Ticket, parking, and other information can be found at the website provided. This is a rain or shine even and PETS ARE WELCOME, so bring the whole gang!
https://www.freshtix.com/events/rhythm-and-brews-18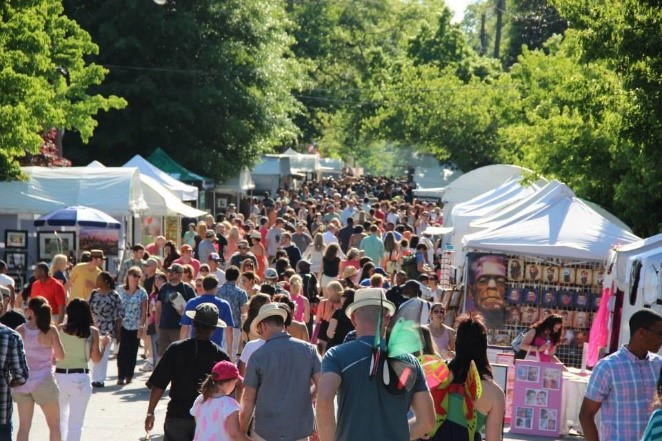 Festival on Ponce, April 7 – 8

For going on seven years now historic Olmstead Park has been the home to this yearly art, music, and food festival. The event is free and fun for all ages featuring arts and crafts, live acoustic entertainment, kids areas, and local Atlanta cuisine to try.

Designed by one of America's most celebrated landscape architects, Fredrick Olmstead senior, The Park provides a beautiful backdrop for all the fun, featuring over 125 displays of Atlanta's best artwork! Bring the kids so they can enjoy the games and activities, art, and even inflatable rides and playgrounds!

This annual festival is hosted by the Atlanta Found for Public Spaces and is rain or shine. You can find more information by visiting the link provided.



---